Saving Belize's reefs – a heritage worth preserving
Partner story
Described as "the most remarkable reef in the West Indies" by Charles Darwin, the Belize Barrier Reef Reserve became a world heritage site in 1996. It boasts an outstanding natural system of offshore atolls, several hundred sand cays, mangrove forests, coastal lagoons and estuaries. The atolls are a habitat for threatened species, including the marine turtle, the manatee and the American marine crocodile. Understandably, the reefs are a source of tremendous national pride – and in addition, more than 200,000 Belizeans rely on them for jobs.
However, until recently, the reef has been under threat from: offshore oil drilling; invasive species; the selling off of land for private development; and the indiscriminate clearance of mangroves. For this reason, it had been placed on UNESCO's endangered list for nine years.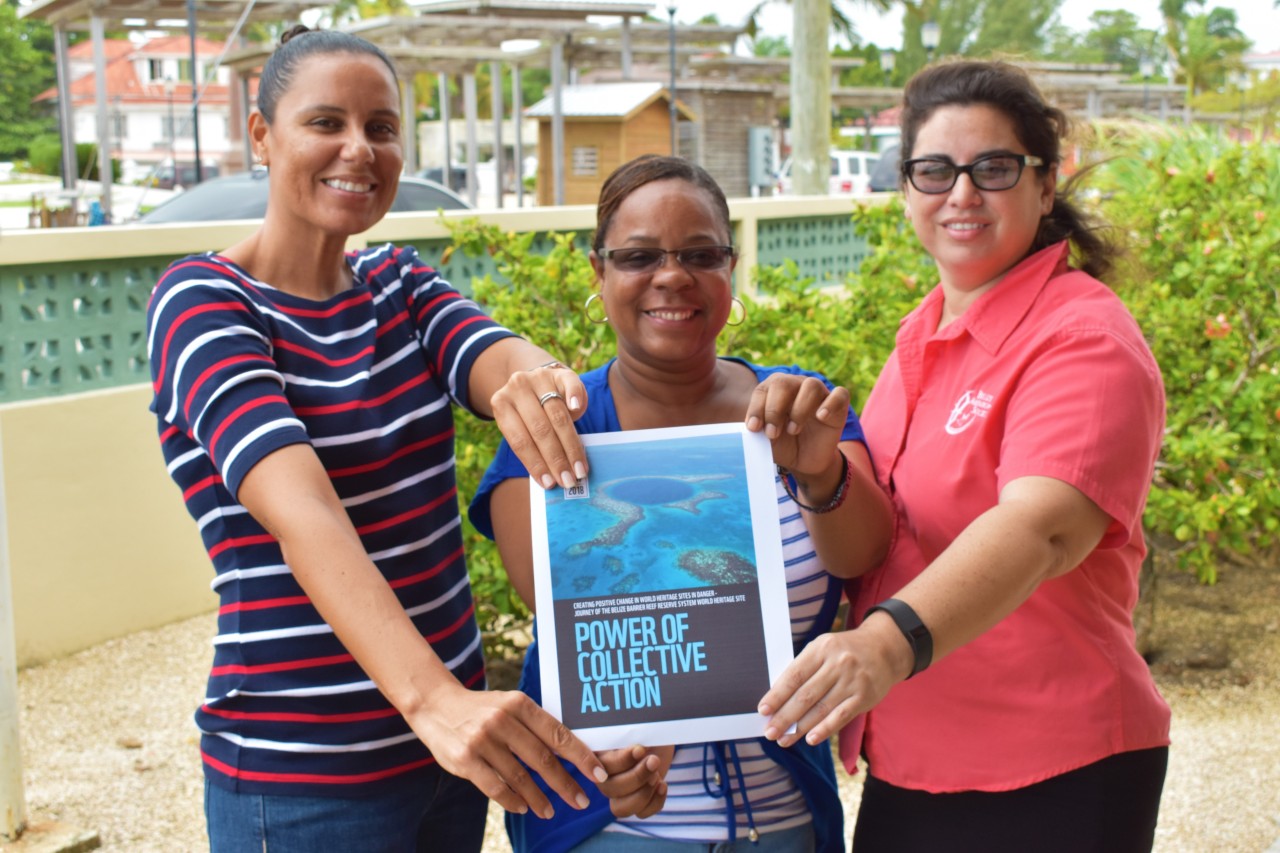 Photo caption: left to right – Janelle Chanona (VP Oceana); Nadia Bood (WWF); Amanda Burgos (Executive Director of Belize Audubon Society)
The power of collective action – reef removed from endangered list
In June 2018, UNESCO's World Heritage Committee removed the site from the list of endangered World Heritage Sites at its 42nd Session in Bahrain. This wonderful decision to ensure the reef's protection came about because of collaborative action between the Belize Government and several Oak partners.
"At a time when we are seeing numerous threats to World Heritage sites, Belize's Government has taken real action to protect one of the world's most special places," said Marco Lambertini, director general of WWF International.
Our partners included WWF International, Oceana and the Belize Audubon Society. Their collaborative efforts included: an indefinite moratorium on offshore oil-drilling; regulations to protect the mangroves; a stronger development permission process; and the protection of national lands.
However, things are never static and new threats emerge. Partnerships are needed to keep Belize off the list, as recognised by Hon. Patrick Faber, the Deputy Prime Minister of Belize. "Belize's natural resources, both terrestrial and marine,are subject to incursions from neighbouring countries," he said. "The threats of climate change are real, requiring innovative solutions for adaptation. We need additional sustainable financing measures to bolster conservation efforts, therefore we welcome the support of the international community and partners to assist where possible. We are thankful to be off this list of endangered sites and we hope to keep off it."
Photo caption: left to right – Hon. Omar Figueroa (Minister Agriculture, Fisheries, Forestry, Sustainable Development, the Environment, Climate Change and Solid Waste Management Authority in Belize); Ms. Nadia Bood (Mesoamerican Reef Scientist and Climate Change Officer at World Wildlife Fund in Mesoamerica); Hon. Patrick Faber (Deputy Prime Minister of Belize and Minister with responsibility for Education, Youth, Sports and Culture)
Indeed, Belize's efforts to restore its reef is an excellent example of what constitutes a blue economy. We at Oak are so pleased to hear about this great victory. Maximum respect to all involved from all of us here!
To support conservation efforts to protect the Belize Barrier Reef contact the Belize Marine Fund here.