Organisational strengthening and effectiveness
We provide advice, grants, and connect partners with consultants for organisational strengthening. This support helps partners grow stronger to better attain their grant objectives and achieve their missions and contribute to making the world a safer, fairer, and more sustainable place to live.
Our partners can use the grant funds to support or develop any organisational strengthening issue they consider a priority. This can include:
Foundational support
This includes basic support to help organisations exist and be safe, such as: complying with legal, financial, tax, registration, or fiscal requirements; and providing integrated security and wellbeing support.
Direct response
This support responds to specific challenges organisations face in their daily work, such as: child safeguarding; fundraising; strategic planning; board development and effective governance; strategic communications; advocacy; leadership development; and monitoring, evaluation, and learning. This also includes support for human resources, such as: staff and volunteer management and development; and diversity, equity, inclusion, and justice work.
Organisational development
This is a more complex form of support to address a variety of issues, such as: changing programme focus; expanding to new geographies; changing leadership; or reacting to external factors that impact the overall programmatic and institutional set up.
Field building
This support aims to help organisations that are leaders in their fields to offer organisational strengthening support to other not-for-profit organisations or develop resources, such as research or tools that can benefit civil society as a whole and other organisations.


How to access support
Our partners interested in organisational strengthening support should contact their responsible programme officer directly.

---
Discover our organisational strengthening and effectiveness stories
Would you like to read more stories like this? Please visit our "Stories" page.
---
Principles that guide our work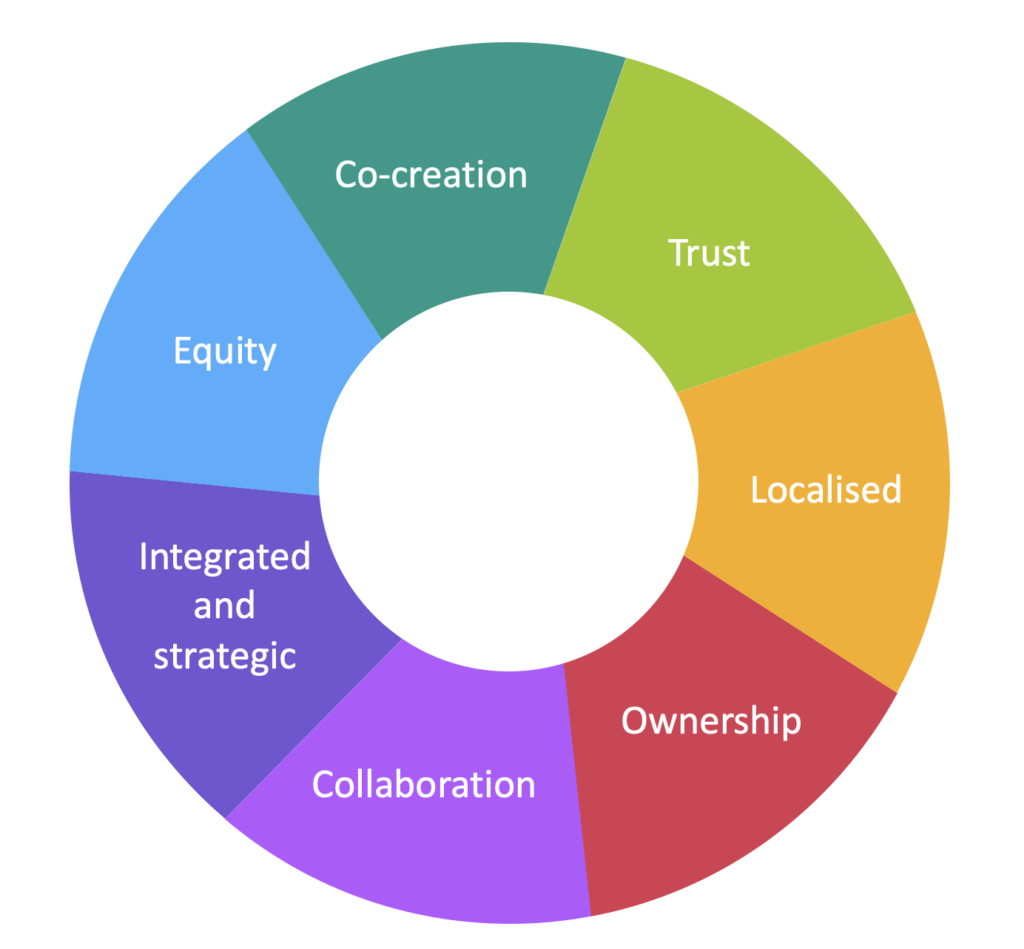 We are guided by a set of principles in our work. These principles include: 

Co-creation: We co-create solutions with grantee partners and experts;
Trust: We trust our partners to build a vision for their success;
Localised: We encourage tailored organisational strengthening for each programme and location in which an activity is being considered, building on existing efforts and best practices;
Ownership: We ensure that partners own any organisational strengthening actions;
Collaboration: We work in an integrated way with our grantee partners and other foundations, leveraging existing solutions and tackling difficult problems in a collaborative way;
Integrated and strategic: We support organisations to focus and develop the systems, structures, skills, resources, and power needed to serve their ultimate missions; and
Equity: We strive to ensure fairness and equity in the way we support organisational development, from selection to execution. 
---
Watch our latest videos
In-country consultants and civil society support organisations that can offer a range of high-quality organisational strengthening services demanded and needed by Oak partners. Watch our latest videos:
If you are an Oak partner and would like to be considered for organisational strengthening support, please reach out to your programme officer who will put you in touch with Adriana Craciun, our senior adviser for organisational strengthening.
Would you like to see more videos? Please visit our YouTube channel.
---
Publications
Organisational strengthening and effectiveness
/
Research
Leadership transition in Ethiopia & CB resource on leadership transition
Oak Foundation commissioned a short research project with civil society organisations in Ethiopia. The aim of the research was to learn what we could do as an outside funder to better support healthy leadership transition in partners.
Organisational strengthening and effectiveness
/
Learnings
/
Organisational strengthening and effectiveness
Funding Organisational Development
Oak Foundation together with Laudes Foundation, MAVA Foundation, Mercator Foundation and PeaceNexus Foundation reflected on, articulated and shared their learning about supporting Organisational Development (OD). In this paper they share their key insights on how to engage in OD, describe a standard OD process and address dilemmas.
---