Many hands make light work
India Programme / Partner story
Photo supplied by DISHA
The Direct Initiative for Social and Health Action (DISHA), is a not-for-profit organisation that supports small fishing communities across several states of India who are largely landless, therefore entirely dependent on common water bodies for fishing. These small fishers have grouped together at various levels across 14 districts (both marine and inland) of West Bengal to raise issues and undertake joint actions to protect their waterways and traditional ways of life.
The Ichamati river (a distributary of the Ganges river) flowing through the Nadia district in the state of West Bengal was once a major lifeline for small fishers. However, it suffered gross neglect due to ill-planned infrastructure and the disposal of municipal wastes upstream, which restricted the flow of the river.
This was further compounded by the proliferation of water hyacinths, an introduced species. As can be seen in the image below, this weed not only makes swimming and rowing difficult, but it also interferes with water supply systems and fisheries. It also provides an optimal breeding place for mosquitoes, which depletes other forms of aquatic biodiversity, because it alters the water chemistry by reducing oxygen.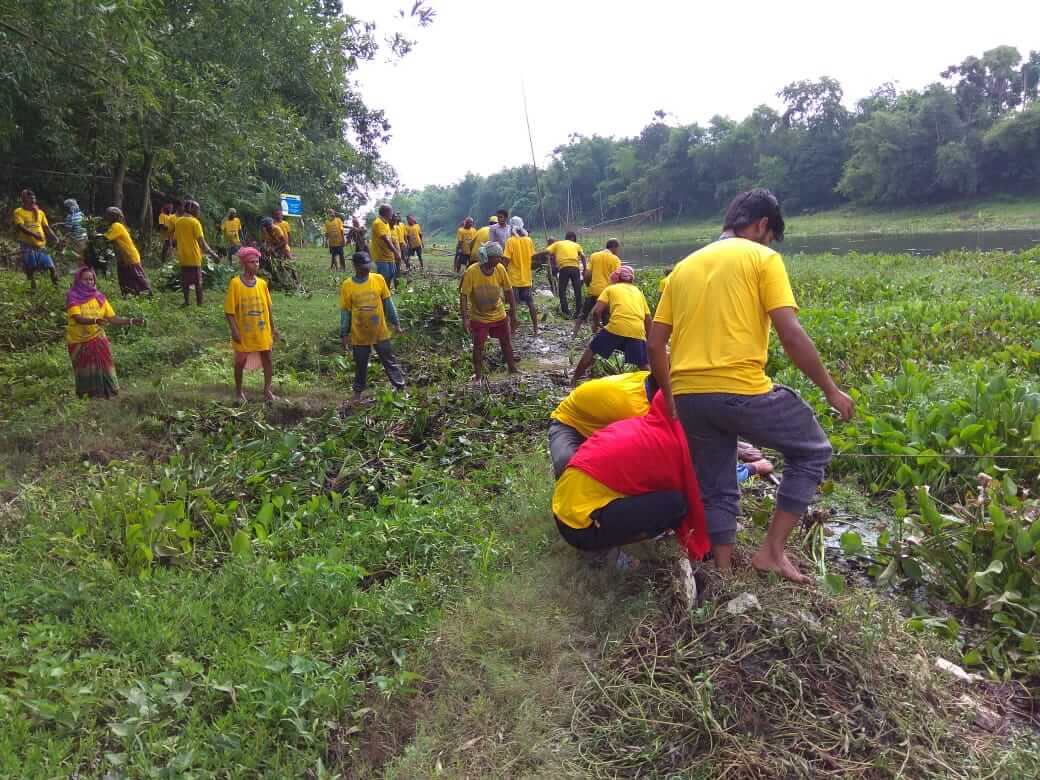 Photo supplied by DISHA
In 2019, a young river resident raised concern over the river's condition and initiated a community-wide clean up. Residents from all along the riverbank supported the efforts, particularly the fishers who had formerly depended on the river for their livelihoods. After mobilising the fish workers for help, the community successfully cleaned a 12 km stretch of the river.
Some 450 workers were involved in the cleaning initiative every day. Their united efforts brought about real change as they came together to uproot and pull out the water hyacinths. They installed a composting project to get rid of the discarded weeds. In total, 80 concrete pits were constructed along the riverbank to produce compost for agriculture and fish feed from the water hyacinths. Each household has been put in charge of a pit and has received training from the agricultural department on how to manage and maintain it.
The clean up was a success – the water has become clear and navigable again, so that boats can sail on it easily. In addition, fish are starting to return, and fishers can once again make a living. And, not only did its rejuvenation serve an economic purpose, but a social one as well – local people began gathering near the river for events, like the one in the picture above.
DISHA is funded through Oak's India Programme. Our partners in India work to elevate the voices of communities that have been marginalised due to social and environmental factors, so that they have a say in the decisions that affect their lives. We are currently redefining our India Programme strategy. We will update our website at the end of 2020 with more information. In the meantime you can read more about the programme strategy here.