Community, crafts and collaboration: Sanasa Greenland
Oak Foundation Denmark / Partner story
Photo: © Sanasa
'Sanasa' means 'let's build something together' in Greenlandic. This encapsulates house painter and decorator Heidi Zilmer's goal of bringing together young people in Greenland and sparking their interest in building and craftsmanship. She does so by combining creative workshops with collective mural painting projects.
Completing her own apprenticeship as a house painter and decorator in 1998, Heidi Zilmer went on to teach theory, composition and decoration at technical college. She also ran her own company and was the main driving force behind new murals in social housing areas. Here, she saw how murals can inspire young people to pursue an education and career as craftspeople.
Having family in Greenland, Heidi visited Qaqortoq in the south of Greenland for the first time in 2015. Here, she realised how few housepainters actually lived in the country. She decided to combine her insight into mural projects and her teaching experience to inspire the creative youth of Greenland to pursue craft professions – especially house painting. With the Sanasa project, Heidi's intention was to run workshops for young people from different social backgrounds. By teaching a variety of inspirational and traditional house painting techniques, she aimed to bring them together to paint an enormous mural illustrating the spirit of the people of Greenland. "The best way to inspire young people is to show them how creative life as a craftsman can be," she says.
Photo: © Sanasa
She presented the Sanasa project to Kommune Kujalleq (the municipality) in southern Greenland, which contributed a substantial amount. The town of Qaqortoq was chosen as the site of the project.
Sanasa kicked off in April 2018 with an inspirational street-art creative craft workshop. Heidi wanted to find and inspire talented young people to participate in her project that summer. The workshop was aimed at young people aged 15 to 30, interested in learning about traditional painting techniques. More than 60 young people from all over Greenland – with different social backgrounds, strengths and weaknesses – participated in the first workshop, learning everything from basic stencilling to gilding and colour mixing. The creative crafts helped them feel connected to one another and sparked positive energy.
"I am impressed with the support received from young people, businesses, local craftsmen and educational institutions. The work has hopefully provided new insight into the wide range of crafts and trade educations that can be taken without enrolling in university or graduate school."
– Heidi Zilmer, artist and creator of Sanasa project.
Three students from Heidi's workshops are now upgrading their skills and hope to study house and decorative painting. Heidi plans to go back to southern Greenland to work on other, similar projects, including workshops for local teachers who wish to train others in the community.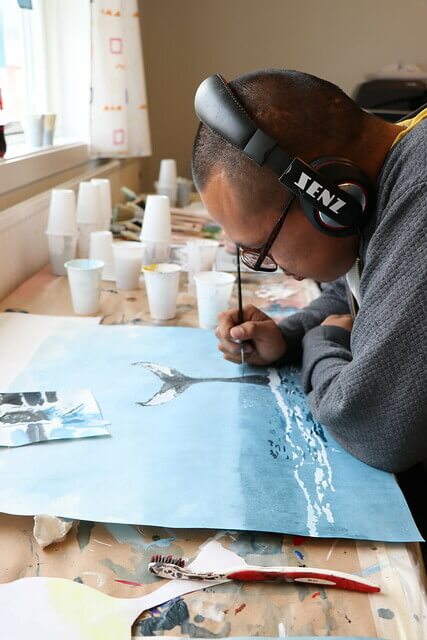 Photo: © Sanasa
You can see the whole Sanasa project in Greenland (in Danish) on this YouTube video.
This grant falls under Oak Foundation Denmark Programme strategy, including support for strategies and approaches that address challenges at the community level.
To learn more about how Oak Foundation Denmark seeks innovative solutions that improve the daily lives and future prospects of socially vulnerable and marginalised groups, read pages 74-76 of our 2018 Annual Report.
Source: Oak Foundation Annual Report 2018