Sharing is caring
15 April 2021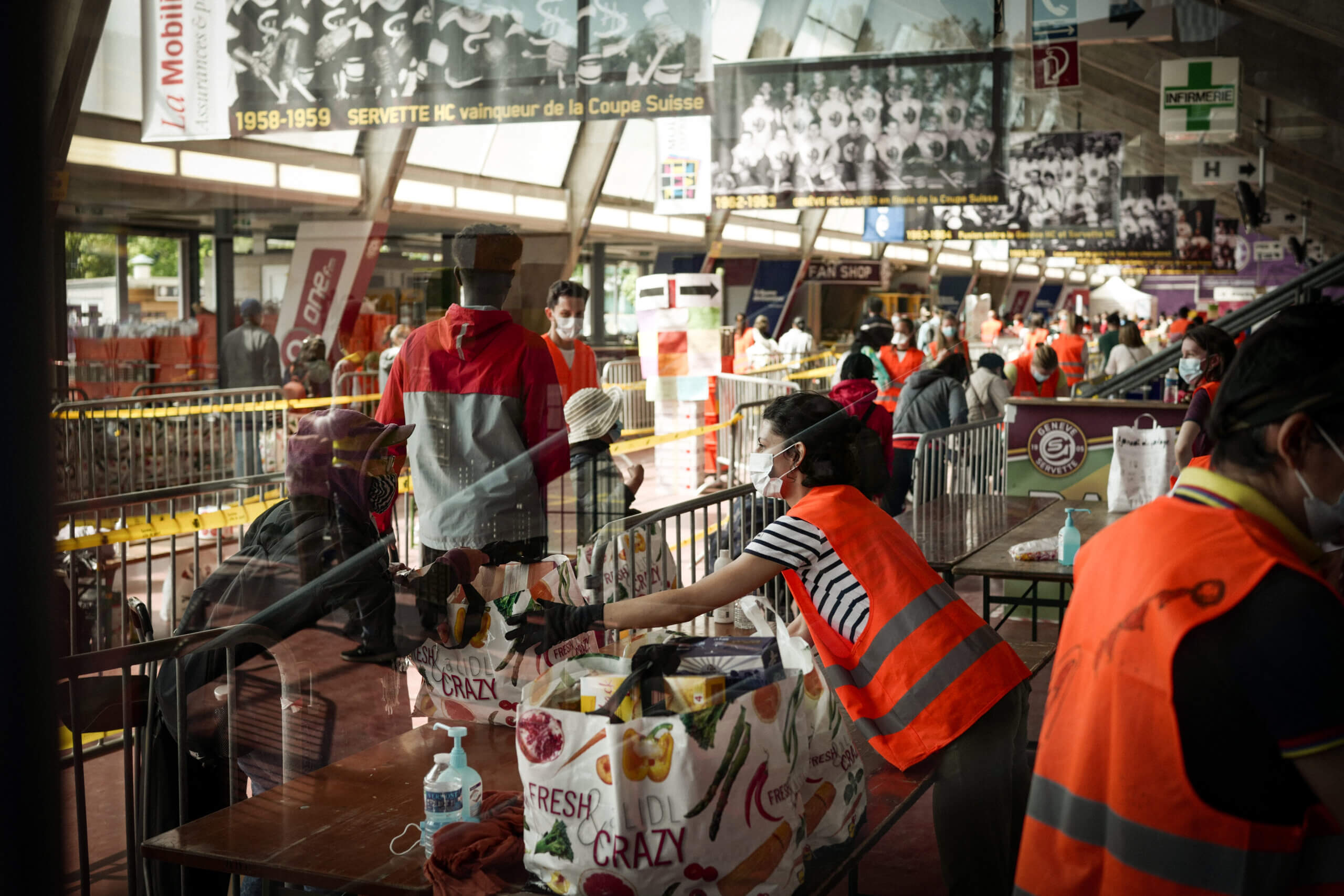 (c) Laurent Guillard
Images of thousands of Geneva's residents queuing for food during the Covid crisis in spring 2020 received international attention as the lines stretched for more than a kilometre[1]. Known as one of the world's most expensive cities, the economic vulnerability of thousands of its residents was suddenly revealed.
The economic shock caused by the pandemic mostly affected people experiencing homelessness, those struggling with addiction, and women and children in situations of domestic violence. The high cost of living in Geneva meant that for some families changes to their income meant that they could no longer make ends meet. And, in particular, it shed light on the invisible fragility of Geneva's undocumented residents, most of whom are domestic and hospitality workers who lost their jobs from one day to the next.
Geneva's sole foodbank, Partage, immediately stepped up to help. Its name could not be better suited as "partage" translates to "sharing" in English, and the organisation accomplishes just that.
Since the Covid-19 crisis began, Partage has been organising volunteers to come together three times a week to pack 6,000 bags of food and hygiene products. It has distributed these supplies at sites across the city, reaching 16,000 people in need each week. Gary Vannatter, one of the regular volunteers, expressed his desire to help the marginalised people of his community. "When you help others, it always comes back to you," he says, "It's great to know that you are supporting thousands of people."
Typically, Partage partners with supermarkets to collect unsold food and goods close to the sell-by date that would otherwise be discarded. Everyday its team is out on e-bikes equipped with refrigerated trailers, collecting from dozens of supermarkets across the city. In 2020, it collected 320 tonnes of food from 91 partners. Catherine Christ Revaz, Partage's head of communications and fundraising said, "we help associations who have beneficiaries in precarious situations. These associations depend on Partage for providing food aid".
By collecting unsold goods, Partage is fulfilling another part of its mission, which is to fight against food waste. It regularly comes up with new ways of using food that would otherwise be wasted, including making 10,000 litres of vegetable soup every winter to accompany the weekly distributions to 50 partner associations.
Oak supports Partage in its core mission to collect and sort unsold food stock in the city of Geneva through our Special Interest Programme, which reflects the Trustees' interests in making dynamic, diverse, large, innovative, and challenging grants. You can read more about the programme here.
---
[1] https://www.theguardian.com/world/2020/may/09/food-parcels-handed-out-to-workers-in-geneva-impacted-by-covid-19